3 MUSICIANS, 6 HANDS, 12 NOTES & 24 CLARINETS!
MOZART AND SOME OF THE BEST PIECES
EVER WRITTEN FOR 3 EQUAL INSTRUMENTS

-Divertimento II, KV 439b W.A.Mozart

3 modern basset horns

Allegro, Menuetto, Adagio, Allegro
BAROQUE MUSIC, WITH 300 YEARS OLD
INSTRUMENTS

-Suite for 3 chalumeaux J.Ch.Graupner

Gavotte, Menuetto

-Air (baroque clarinet, 3 keys) G. Ph. Telemann
CLASSICAL MUSIC, WITH 200 YEARS OLD
INSTRUMENTS

3 classical (5 keys) clarinets

-Minuet J. Haydn
MODERN MUSIC WITH "MODERN" INSTRUMENTS

Buffet (CR), Selmer (AG) and Leblanc (EF)

-Caprice Viennoise for 3 clarinets J.Takács
THE SMALLEST CLARINETS
-Improvisació sobre temes romanesos (klezmer) A.Gumí
A flat, E flat and C clarinet
THE LARGEST CLARINETS

-Blues A.Gumí

Bass and Contrabass (E flat and B flat) clarinets
FINAL DIVERTIMENTO
-Martin i Soler versus Mozart versus Salieri
3 basset horns
The Trio SALMOÈ
Albert Gumí (bass), Carles Riera (contrabass in Eb) & Emili Ferrando (in Bb!)
Direction: Carles Riera
The Salmoè Ensemble has specialised in the new ways of reaching audiences.
Its first program, Figaro! Figaro!, has received great critical acclaim.
Joan Martín-Royo Figaro (Rossini & Mozart)
Maria Escobar Rosina (Rossini), Countess, Susanna (Mozart)
Mikel Atxalantabaso Count (Rossini), Basilio (Mozart)
Marc Canturri Bartolo (Rossini), Count (Mozart)
Molly Marsh, Josep Domènech Oboe
Toni Salar, Òscar Argüelles Clarinet
Rafael Mira Natural Horn (Classical Guitar in the Serenade)
Vicent Navarro Natural Horn
Carles Cristóbal, Bárbara Sela Bassoon
Oriol Martí Double Bass
G. Rossini y W.A. Mozart Músic (Il Barbiere di Siviglia & Le Nozze di Figaro)
P. C. de Beaumarchais Text
on period instruments
Carles Riera Direction
Oriol Broggi Stage Direction
Miquel Desclot Translation
"De aburrimiento no hubo ni pizca en el concierto [...]. Carles Riera y Oriol Broggi han condensado en sólo una hora y de forma eficaz las dos grandes óperas basadas en el barbero más famoso de la historia, Il barbiere di Siviglia y Le nozze di Figaro , en un espectáculo, ¡Fígaro! ¡Fígaro! , fresco, ameno (impagables muchas de las líneas de traducción de Miquel Desclot), divertido (ingeniosa la forma de explicar el cambio de tesitura del Conde de Almaviva entre las óperas de Rossini y Mozart) y bien servido tanto a nivel escénico como musical."
Xavier Cester , AVUI, 24-4-2004
Festival de Música Antigua de Barcelona (Première)
Carles Riera and Oriol Broggi talk with some of the musicians
Marc Canturri, Mikel Atxalantabaso, Maria Escobar & Joan Martín-Royo
One of the funny moments of the performance
Nachtmusique's recording of Mozart's Gran Partita has been chosen by Spanisch newspaper El País and french newspaper Le Monde, among others, for their Mozart 250 Anniversary Collection.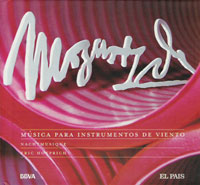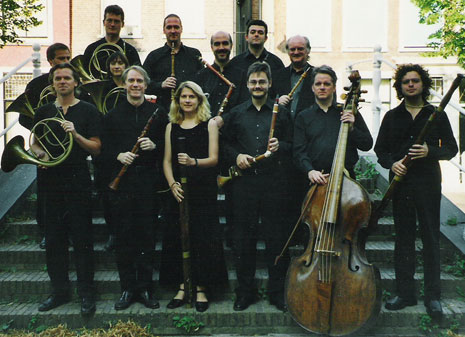 Eric Hoeprich, Toni Salar Clarinet
Michael Niesemann, Piet Dhont Oboe
Carles Riera, Albert Gumí Basset Horn
Jane Gower, Javier Zafra Bassoon
T. van der Zwart, H. Mac Dougall, E. Wieringa, B. Kloosterman Horn
David Sinclair Double Bass